Escape Show
Spectacular and daring escapes presented in a modern, dynamic style. Watch our showreel below.
Master escapologists Danny Hunt and Stephanie Clarke are the UK's leading escapology act. Danny Has recreated many of Houdini's most famous escapology stunts. From prison escapes to water tanks, handcuffs to chains, all accompanied by Stephanie, one of the world's few female escapologists. Together with over 20 years of experience as performers this dynamic duo thrill audiences around the globe with their sensational show featuring many mind blowing escapes designed and created by the death defying duo.
Amethyst's escape show features some of the most spectacular and daring escapes ever created. Presented in a modern, dynamic style. It features a range of astonishing escapes and spectacular effects with plenty of audience participation. This thrilling show is jam-packed with action and suspense.
Amethyst can perform on large or small stages, indoors or out. Whatever your venue, they will happily tailor their show to fit. If you are looking for something sensational... Amethyst escapology certainly fits the bill! If you would like to make an enquiry about Amethyst's Escape show, or any of their death-defying stunts and escapes, please contact us.
Enquire about this show
Submit your details below and we'll get in touch soon.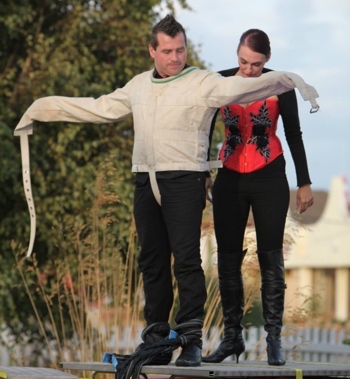 Stunts and Challenges
Hanging upside down by the ankles high above the crowd, bound in a strait-jacket. Escaping from a tank filled with 55 gallons of water. Risking being torn apart by two trucks.
These stunts are a great form of promotion for any company or sponsor wishing to 'challenge' Amethyst. Past challengers have included locksmiths, security firms, aquariums, museums, engineers, garages and theme parks.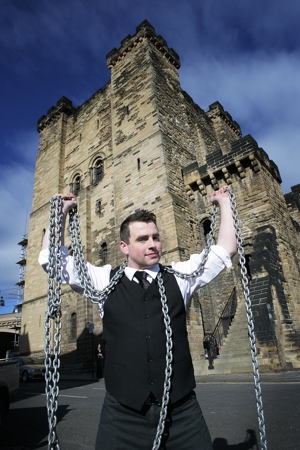 Prison Escapes
Danny has become well-known for his daring recreations of Houdini's prison cell escapes. He has successfully escaped from the following:
York Castle Museum condemned cell

- the cell that was once home to notorious highway man Dick Turpin in the last few months of his life.

Ripon Liberty Gaol

- including escaping from a strait-jacket, 100 feet of steel chain, a padlock and a Victorian cell with a double-barred window and solid steel door!

Castle Keep in Newcastle

- including being bound in handcuffs and 100ft of steel chain secured with padlocks, and locked in the cell.